Washington County voters sign petition to legalize recreational marijuana
The legalization of recreational marijuana use in Florida is gaining momentum as a petition campaign by the political committee Smart & Safe Florida strives to collect the 891,589 verified signatures needed to get the "Adult Personal Use of Marijuana" proposal on the ballot in 2024.
According to the Florida Division of Elections, the state has verified 416,933 petitions as of Monday. While this is less than half of what is needed to date, it far exceeds the 222,898 signatures needed for judicial and financial impact review. 
No signatures have been received in Holmes County, but Washington County voters have contributed 282 signatures. Some of the signatures were collected by Sam Massie of Tallahassee, a petition circulator working on behalf of Smart & Safe Florida.
"It could help people in a lot of ways. Right now, it's just medical and a lot of people want it recreationalized. I'm just doing it to help out," Massie said.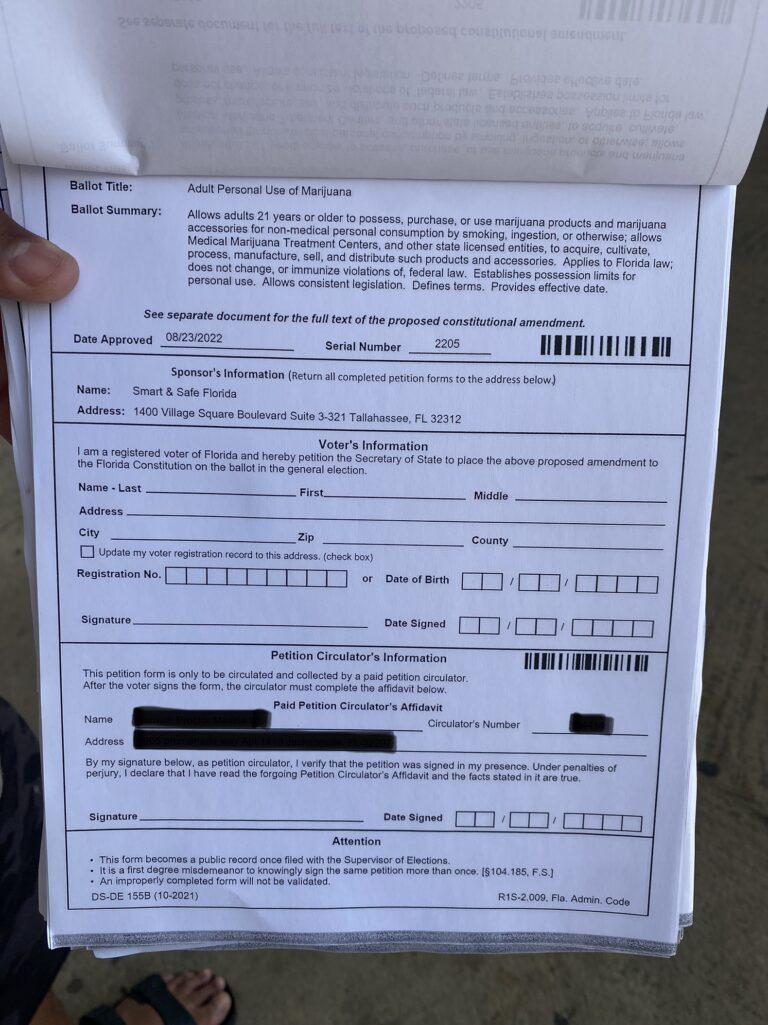 Massie is from Maryland where, as of July 1 this year, marijuana will be decriminalized and legal for recreational use within a specified amount that may be possessed for personal use and will lay the groundwork for expunging cases in which possession is less than 10 grams of cannabis and increases the amount of cannabis a person may possess that is subject to a civil fine rather than a criminal penalty.
For now, Florida allows medical marijuana consumption while Smart & Safe Florida continues to collect petition signatures seeking an amendment that would allow adults 21 years or older "to possess, purchase or use marijuana products and marijuana accessories for non-medical personal consumption by smoking, ingestion, or otherwise."
"I definitely would like it to be decriminalized and also get to the point of expungement," Massie said. "Now if a person has a ton, that's never acceptable."
Massie said he watched a friend struggle with a criminal record due to marijuana possession, but a change in the law gave him and his family a second chance at a normal life due to expungement of the record. 
"Since we graduated high school, it was hard for him to find jobs since he had a felony," Massie said. "Because of that small mistake in high school, that cost him having to work two jobs instead of one. Now he's in a management position making $80,000."
"Doing this job, I talk to war veterans who use it (marijuana) for PTSD and people who use it for anxiety and depression, and it helps people be a little bit happier during the day. It helps people with insomnia sleep."
Massie said he's met people getting out of prison who see billboards advertising how easy it is to get marijuana delivered to their homes now and sees how it feels unfair. 
"Just like anything, it needs to be regulated," Massie said. "Too much of anything can be bad."
The legal use of marijuana exists in several increments. States run the gamut of marijuana being legal, medical, decriminalized, medical and decriminalized, allowing CBD with THC only, and fully illegal. Since 2012, 21 states, as well as Washington, D.C. and Guam, have legalized recreational marijuana use: Colorado, Washington, Alaska, Oregon, California, Maine, Massachusetts, Nevada, Michigan, Vermont, Illinois, Arizona, Montana, New Jersey, New York, Virginia, New Mexico, Connecticut, Rhode Island, Maryland and Missouri.
To date, the medical cannabis company Trulieve has contributed a total of $30.5 million to Smart & Safe Florida to fund the collection and verification of petition signatures.
"That's why I advocate for it. I have a lot of personal things that make me want to push for it, but I also don't put pressure on people to sign it or change their mind," Massie said. "At the end of the day, that's what America is all about."