Locals share their love stories
We asked our readers to send the stories of how they met their significant others in honor of Valentine's Day.
Here are their submissions.
A mixtape love story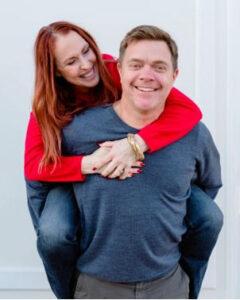 Like so many teens growing up in the '80s and '90s, we created mixtapes. We made them for our friends, crushes or perspective boy/girlfriends. Mixtapes were often a way of expression and telling how we feel through music. Let's rewind and press pause for a moment while I share our love story.
David and I met through mutual friend at church. He walked over, sat down next to me and introduced himself with a handshake. He's tall, fit and generous. It was simple and sweet.
Over the weeks that followed, we enjoyed football games, dances, roller blading, sampling restaurants and other single adult group activities. David was easy and fun to be around, but it was when I received his mixtape that I really began to understand. From White Snake, Is This Love to Peter Cetera, In Your Eyes; these songs have been woven into our mixtape love story. I was blessed to have met my soulmate at 19 years of age, and we've been married for 27 years! I'm grateful to be with the man I admire and love. Let's keep dancing!
Rachael and David Switzer
'It seemed too soon but felt just right'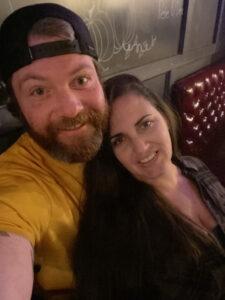 Twenty-one years ago, we were high school seniors that stumbled upon each other through mutual friends. Neither of us had plans to hang out long that night, but sparks were immediate, and plans quickly changed.
It seemed that within weeks we were out of the haze of what do we do after we graduate and onto planning a life together. We even discussed how it seemed too soon but it just felt right.
Within 6 months we were planning a wedding, and after a year we were hitched.
He joined the Air Force a month to the day after our wedding. We've been apart more than together some years and moved more times than we can count. It wasn't always easy, but it wasn't ever a hard choice to make.
We got to raise a couple of pretty awesome spawns and are now planning retirement as he exits the Air Force after 20 years. Looking back, it seems like it was all yesterday. At the same time, it just seems like all those little moments along the way were a lifetime ago.
One of my favorite memories to think of is how embarrassed and silly it felt to want to say "I LOVE YOU†two weeks in. I'm forever grateful our hearts knew better.
Katy and Scott Henderson
Fairytales do exist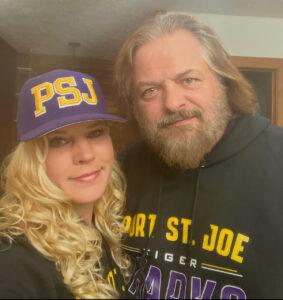 Twenty-five years ago, I met the love of my life.
I was a new soldier in the Army, and she graduated High school and moved to Virginia and met me. When I saw her face, I knew she was the one. Her eyes could sooth a thousand souls. Instantly, we fell in love.
I met her at the Barracks while her friend was visiting my friend. We were introduced, and we chatted all night. I asked her if she would be mine. We both had found the missing piece to our lives. We only dated for two months before we decided to get married. My heart was on fire, I dropped to my knees and asked her if she would be with me forever. She stated that's all she wanted.
The following month, we got married and began our loving journey together, proving fairytales do exist.
Scott and Kelly Focht
Flat tires make great ice breakers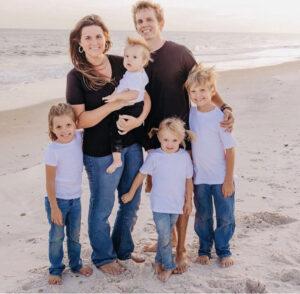 My husband and I met in 2010. He was working as a local barista in our town, so I knew of him.
One day, I ran into him at our local tennis courts. He was on a date, and I was taking a younger sibling to their lesson. It started to rain, and I returned to my car to find I had a flat. He said goodbye to his tennis date and stuck around to change my tire, even getting down in the mud.
We had our first date later that week, and we have been together ever since! We have now been married 10 years with four children.
The Still Family
Can you imagine if we would have listened to others?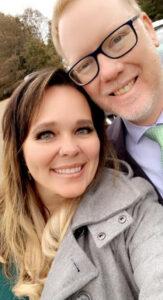 Our love story is the greatest rollercoaster that we've ever been on!
This April makes 26 years of marriage for us, after so many said that we would never make it.
"You're too young.†"You're complete opposites.†"You are only getting married because you're pregnant.â€
Well, turns out age didn't matter, opposites attract and yes, we were pregnant, but we loved each other, BIG! Matt and I got married at 18 after meeting in English 1101 at Gulf Coast State College. We had our first baby at 19, quickly followed by 2 more.
We became legal guardians to my brother with Down Syndrome. We have been foster parents for many years, and in 2022 we adopted our fourth baby! God's really funny because we also have three grand-babies.
My goodness, what a Beautiful Journey we are on! This ride keeps getting better and better, and our love keeps getting BIGGER and BIGGER! Could you imagine if we would have listened to others instead of following our hearts? What we would have missed out on?
We wouldn't have had the the opportunity to pour out unconditional love to our children, their children and my brother or to teach them how it was all possible…
1John 4:19 — If we're honest it hasn't always been the easiest ride but as we said earlier it been the GREATEST!
Happy Valentine's, y'all! And to those of you starting out, buckle up. It's gonna be bumpy, you're gonna have to choose each other every day, but it's gonna be worth it! Cheers to the greatest ride ever!
Vyneri and Matt Bonner