From cadet to commander, Destiny Gregory shows transformative power of JROTC
For 18-year-old cadet Major Destiny Dawn Gregory, climbing the ranks of leadership in Vernon High School's JROTC program has the junior on a path she hopes will lead to her dream career in the U.S. Navy.
JROTC – the Junior Reserve Officers' Training Corps – is a program that instills leadership, self-discipline and personal accountability for high school students. Each branch of the military has a JROTC program. The program has been nothing short of life-changing since Destiny first donned the Army JROTC uniform.
"My interest in pursuing the military started when I was four," Destiny said. "I was interested in joining the Army because my dad was."
Destiny said as a younger child she went through phases of wanting to be a spy then she wanted to be a doctor. Now in JROTC, she's gained insight to help her hone her plans.
"I want to go my granddad's route and join the Navy," Destiny said. Her grandfather and great-grandfather fought in major American battles. Destiny said her father's way of being, even though he got out of the military at age 29, has rubbed off on her. 
"It's like I never got out," Carl Gregory said. Carl, 63, joined the Army Special Forces in 1979 and was a Green Beret until transferring to a regular infantry unit after an injury, serving almost a decade total. 
At VHS, Destiny has thrived under the guidance of 1st Sgt. Timothy Pickens and Major William Chomos. Destiny's father said their encouragement to reach for the stars is what helped Destiny set her sights on becoming the next battalion commander.
Destiny was promoted to major at the change of command ceremony Jan. 20 when she became the battalion's first Asian American female to be promoted to Vernon High School's JROTC Battalion Commander. Destiny anticipates another promotion to lieutenant colonel before the school year ends. 
Destiny was born in Thailand when her father was working there as a civilian and met her mother, Aye Misan, who was a Burmese refugee at the time. 
"I wanted to help her and fell in love with her," Carl said. The couple navigated fears of possible deportation but eventually obtained citizenship. Destiny also has a two-year-old sister, Amari Anne Gregory.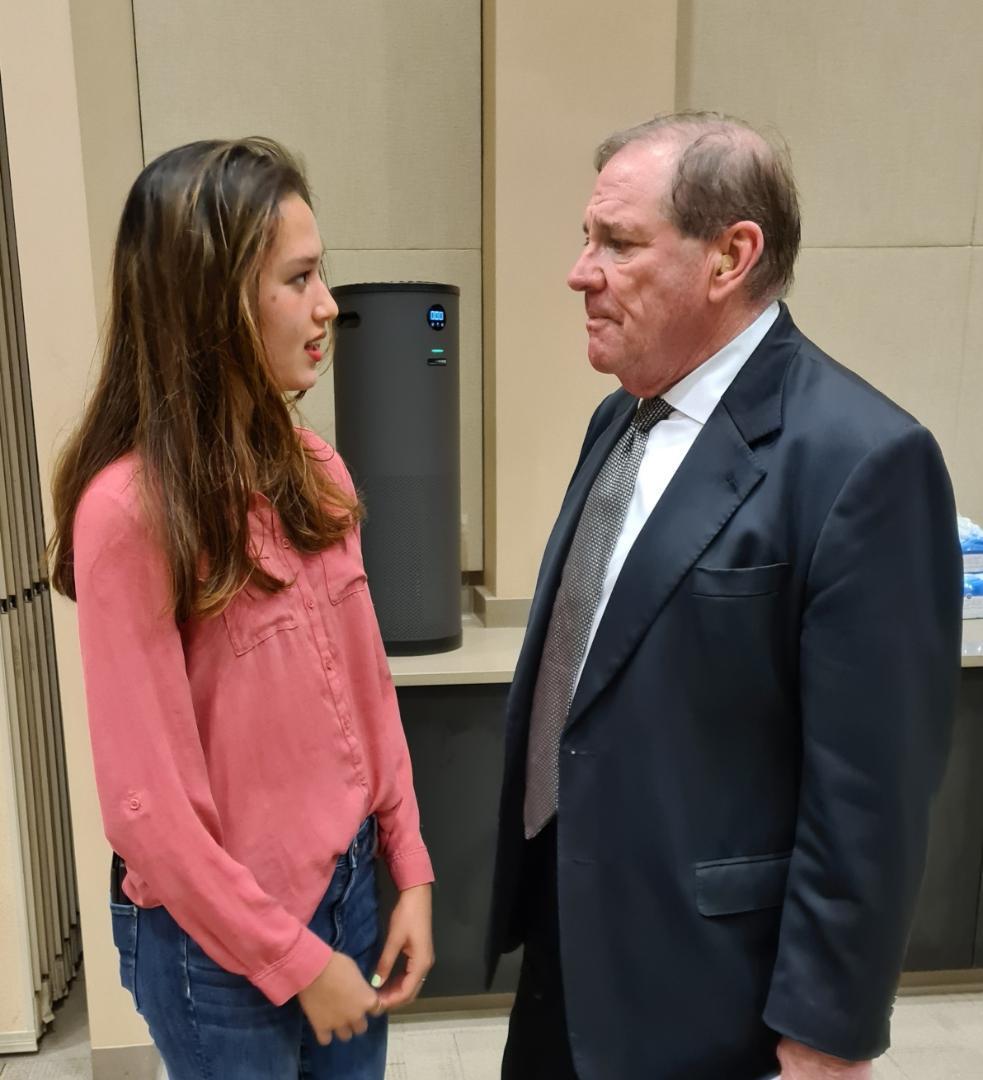 Destiny has been in JROTC for one and a half years. In that time, she has learned the principles of leadership, attention to detail, the importance of following orders and how to work together to achieve common goals. Destiny's experience has spanned leading drill and ceremonies, physical training and community service projects. As a cadet officer, Destiny said she has honed her public speaking skills and gained the confidence to express her opinions clearly and concisely in front of large audiences.
"They say I'm very intense in the way I lead the battalion," Destiny said. "I'd rather do it the right way than the easy way."
In addition to being on multiple teams within JROTC, Destiny is also on the track team and tennis team.
"It's a very tight schedule," Destiny said. 
Destiny was recently inspired further by a chance meeting with Lt. Gen. Terry Gabreski on Academy Day last March.
"We just talked for two hours. I did not know she was a general," Destiny said. "I noticed people were saluting her, and I was so confused."
Destiny said Gabreski was very "down to earth" and encouraging.
"She inspired me to always do my best and be myself no matter what," Destiny said. Destiny added that she was starstruck once she realized who Gabreski was.
Destiny has embraced the community service aspect of JROTC and has volunteered at a local food bank and was the first student to volunteer at Vernon City Hall. 
Destiny was also inspired by her neighbor, Dwayne Schaefer, who retired from the Navy with combat awards. Schaefer always had something encouraging to say to Destiny until he passed away. Destiny has a long list of others who have inspired her along the way. 
"I put every effort in to become battalion commander," Destiny said. "All the color guards, all the drills, everything that they had to sign up for, I signed up for. I knew in JROTC, I had to be involved 100 percent. I wanted to be the one that was 100 percent committed."
Destiny said her biggest goal now is to get into the United States Naval Academy one day and "learn from the best of the best" and "be in the military environment." 
"The Navy seems to be the best fit for me," Destiny said. 
Destiny said she would like to major in chemistry and international public affairs in college. She said she would like to be an admiral in the Navy one day. Like Destiny said in her change of command speech, she wants to keep striving to be her own best version and lead her battalion to do the same. 
"I said this year, we're all going to reach for the stars together," Destiny said.