Chipley home receives Florida Heritage Site Marker
A Florida Heritage Site Marker was recently installed in front of the E.J. Stokes home at 681 Main Street in Chipley.Â
After researching the property and visiting the Washington County Historical Society for additional information, the current owner submitted an application to the state and received approval for the marker.
"The Florida Heritage Markers are beautiful,†Historical Society Director Dorothy Odom ssid. "It's wonderful when a homeowner takes on the chore of researching their new home's history, submitting applications, and installing the marker themselves. This is quite an accomplishment. We are so thankful to the Graham and Merri Foreman family for remembering Chipley's history.â€
The marker tells the history of the home's architecture and of E.J. Stokes.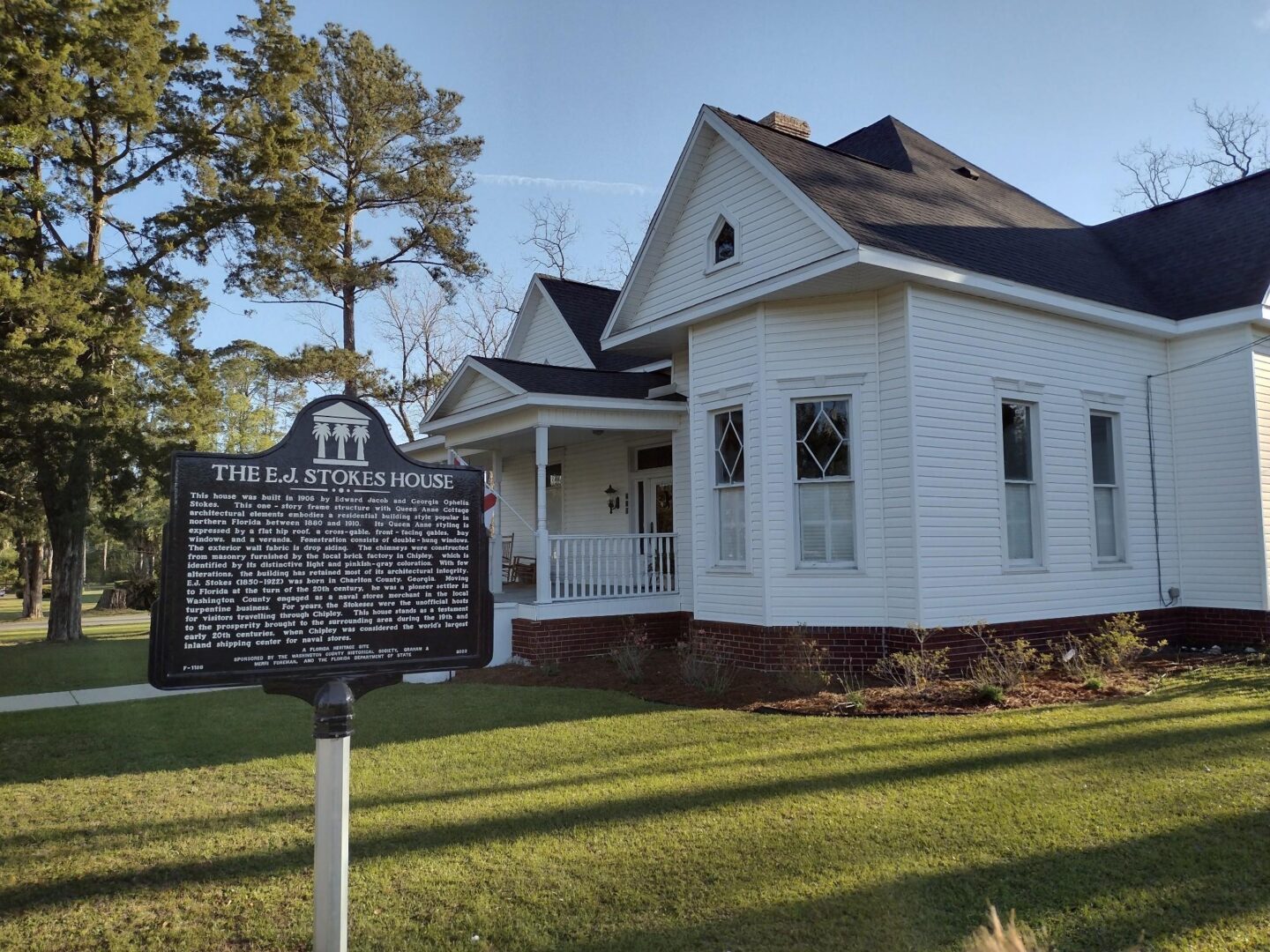 "This house was built in 1906 by Edward Jacob and Georgia Ophelia Stokes. This one-story frame structure with Queen Anne Cottage architectural elements embodies a residential building style popular in northern Florida between 1880 and 1910. Its Queen Anne styling is expressed by a flat hip root, a cross-gable, front-facing gables, bay windows, and a veranda. Fenestration consists of double-hung windows. The exterior wall fabric is drop siding. The chimneys were constructed from masonry furnished by the local brick factory in Chipley, which is identified by its distinctive light and pinkish-gray coloration. With few alterations, the building has retained most of its architectural integrity. E. J. Stokes (1850-1922) was born in Charlton County, Georgia. Moving to Florida at the turn of the 20th century, he was a pioneer settler in Washington County engaged as a naval stores merchant in the local turpentine business. For years, the Strokes were the unofficial hosts for visitors traveling through Chipley. This house stands as a testament to the prosperity brought to the surrounding area during the 19th and early 20th centuries, when Chipley was considered the world's largest inland shipping center for naval stores. A Florida Heritage Site sponsored by the Washington County Historical Society, Graham and Merri Foreman, and the Florida Department of State 2022â€
Want to find out if you have an historical home? Drop by the museum of the Washington County Historical Society at 685 7th Street any Friday from 9 a.m. until 1 p.m. Other times may be pre-arranged by contacting Director Dorothy Odom at 850-638-0358.