'He saved our lives' Local couple faces long recovery after motorcycle crash
Just five days after celebrating their first wedding anniversary
23-year-old Chase Elkins and his wife, 24-year-old Alex Elkins, find
themselves fighting to walk again.
While out for an early evening ride with a friend on June 2, 2023, the
Elkinses were struck by an oncoming truck while riding their Harley
Davidson. They were on the way to a friend's house for dinner.
Elkins said she closed her eyes but vividly remembers holding on to
her husband as she felt the impact that sent them airborne.
"When everything happened, I was holding him really tight, and I
remember going up in the air and telling myself I have to let go of
him,' said Alex. "When I let go of him, I hit the ground and I
rolled.'
Alex, who noticed immediately she could not feel her left leg, said
she could hear her husband in the distance yelling for their friend's
belt so he could apply a tourniquet to himself before he crawled about
ten feet to check on her.
"My husband is the hero in all of this,' said Alex. "He crawled to me,
and he put a tourniquet on my leg. If he would not have done those
tourniquets, the EMTs said we would have died before they got there.
He saved our lives.'
Alex received multiple injuries to her leg, including a football size
puncture from the impact, and broken fibula, tibia, and femur bones.
The couple was airlifted to a hospital in Tallahassee, where they
underwent multiple surgeries.
Chase, who has been released from the hospital, is recovering from a
lower left leg amputation and the reattachment of his pinky and ring
fingers to his left hand.
He is currently in a wheelchair as he waits for his prosthetic.
Focused on his wife's condition, Chase said the most challenging part
has been their recent separation since her transfer to UF Health
Shands Hospital in Gainesville, where she is scheduled for more
surgeries in hopes of salvaging her leg.
"She has not been able to walk and has been out of bed only once since
the accident. It is difficult to be away from her while she is in such
a vulnerable state,' He said. "Before, I could be with her almost
every day.'
Alex, who is an ESE teacher at Marianna K-8, is concerned about being
released in time to be with her students for their first day of
school.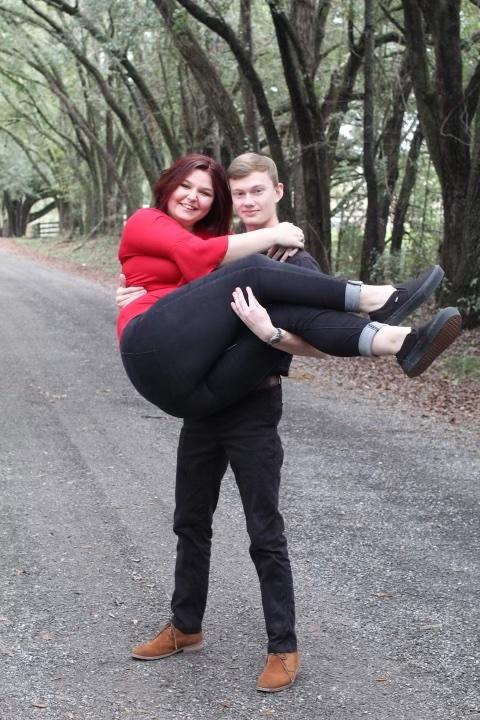 "I recently changed from 6th grade ESE to 3rd grade ESE, so I was in
the middle of getting my classroom ready when this happened,' she
said. "I just want to get out of here and be able to go back to work
in time to get it all prepared and be with them on their first day.'
Both Chase and Alex say promoting motorcycle safety is also now a huge
concern for them.
"If I could express anything to the public through all of this, it
would be how important it is to be aware of your surroundings when
driving,' Chase said. "One small move for a car, a slight drift into
another lane, can dictate whether we live or we die.'
A GoFund Me account has been created to support the couple as they
continue their recovery. Both face additional surgeries and a lengthy
rehabilitation due to the severity of their injuries. https://gofund.me/52680e68