Chipley High School makes history, celebrates first baseball state championship with ring ceremony
Staff report
Philip Roundtree Stadium was filled with excitement and joy as history was made before the home football game against the Bay High Tornadoes last Friday evening when the school's baseball team celebrated their first-ever state championship win.
The much-anticipated ring ceremony served as a reminder of the remarkable year the group of players and coaches had. The state championship ring ceremony completed the 2023 season for the Tigers.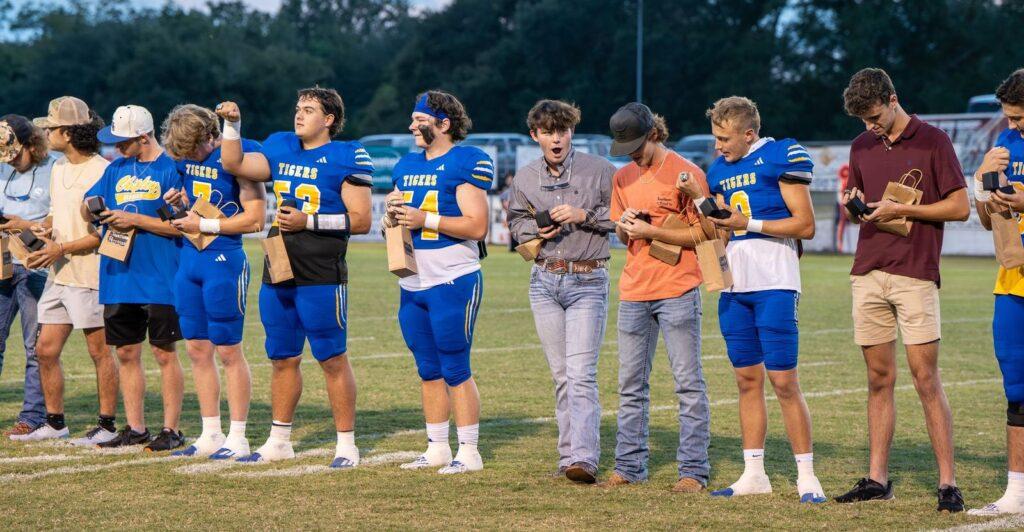 Each member of the team received a personalized state championship ring. The roster of champions comprises players from different grade levels, showcasing the depth and diversity of talent within the team.
Freshmen
Callen Scurlock
Brantley Kirkland
Sophomores
Lawson Corbett
Rayce Griffin
Kason Nelson
Aiden Wheeler
Juniors
Carter Kirkland
Cade Culbreth
Conner Goddin
Gavin O'Neill
Blaine Woodham
David Carley
Thad Brown
Brodie Price
Jonathan Peterson
Cameron Worley
Zeke Gavaller
Carson Thornton
Seniors
Conner Dillard
Michael Green
Parker Smelcer
Neal Adams
Bryson Howard
The coaching staff, led by head coach Andy Compton and assistant coaches Jesse Carter, Ty Russ, and Colby Cleveland, played a pivotal role in guiding the team to success. The collaborative efforts of the baseball staff Bob Booth, Phillip Adams, and Brad Adams were instrumental in achieving this historic championship. A special recognition went out to Bryson Howard who was named Player of the Year, a testament to his outstanding performance throughout the season.
Additionally, Coach Andy Compton was deservedly named Coach of the Year, recognizing his leadership and ability to mold a group of athletes into a championship-winning team. The players received their championship rings, each one engraved with their name and position, State Champions, and the championship year of 2023.