Fire services could return to Caryville 
</p>
After being dormant for an extended period, a fire department could be starting back up in Caryville.
Retired Panama City firefighter Troy Cunningham proposed providing fire services in the town again during a City Council meeting on Tuesday, Nov. 14. Cunningham lives in Vernon and has run a couple of calls in Caryville.
"I've noticed y'all don't have a fire service anymore and it takes quite a while to get services over here,†Cunningham said. "Just recently within the past five months, I have been appointed to Country Oaks as their chief to get their department back up and running to a higher standard.â€
Councilmembers were open to Cunningham's offer to open a second Country Oaks station in Caryville, which would require a minimum of four trained and certified volunteer firefighters.
"I'm willing to help y'all,†Cunningham said. "We got to have citizens that are willing to go out and take the time to become certified. You've got to get your citizens involved. If they're not involved, this is a waste of my time.â€Â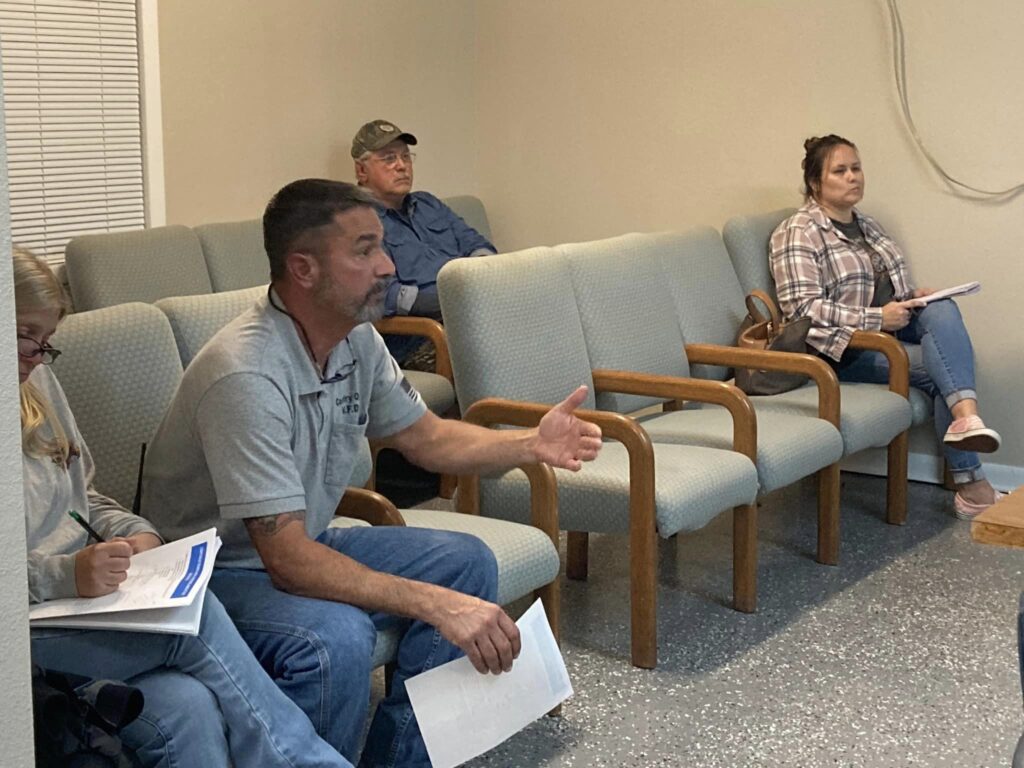 Certification classes will start at the end of January, conclude in May, and be held at Chipola College in Marianna. The courses are every Tuesday and Thursday night and every other Saturday from 8 a.m. to 5 p.m. Volunteers do not have to live in city limits and the class costs will be covered by a state grant if the new Caryville fire station is a Country Oaks site.
"Don't just think inside of your city limits. Think of the outskirts. Do you have any young folks? Because that's what we're doing at Country Oaks,†Cunningham said. "I'm starting a youth program to get the youth back involved in the fire service. If we can get these young folks turned from bad things to good things, whether they become firemen or not, let's change their attitude. Let's get them into something good.â€
The first level of volunteer training is "not that strenuous†and involves paperwork, book reading, some hands-on training, and a live burn, Cunningham said. Fundraisers can be held for Caryville fire services and Country Oaks fire services can get donations since they are a nonprofit, he said.
"To run a department, we need extra funds to actually make it happen,†Cunningham said.
Everything necessary for Caryville fire services–including paperwork and equipment inventory–could be taken care of if everyone in the community volunteered just 20 minutes, he said.
"If you leave it for–I hate to say it–this group right here to do it, it's a lot to be done,†Cunningham said.
Volunteers can be certified in forestry-level assistance since a lot of fires in the area are brush fires, though there are higher certification levels, he said.
"There are different levels of certification,†Cunningham said. "Others need to be certified instructional firefighting, which is Firefighter I. Those are the basic two levels. Then you can do Firefighter II, which means you can actually get paid.â€
Potential firefighters have to pass a drug test, background check, and physical.
Council Chair Larry Palmer said fire services are needed in town.
The Caryville Fire Department became defunct after the former fire chief quit, according to remarks from councilmembers.
Caryville does have an existing fire truck–a 1978 GMC Sierra.
"From what I understand, it needs a motor,†Town Clerk Kent Taylor said. "It's a big block Chevy. It's not a diesel. I'm told the pump don't work. It hadn't been moved in years but, outside, it looks good.â€
Cunningham said he looked at the truck and station "just to get an idea of what's going to have to happen.â€
"If we can get it running and the pump passes a pump test, that's a truck. That's number one,†Cunningham said. "The other thing is you already have water supply. You have hydrants.â€
The water supply has to be tested for the fire department to be recognized by the state, he said.
People interested in volunteering can contact Cunningham at 850-527-3547.