Archaeologists find possible remains of Holms Town
The Washington County Historical Society obtained a grant after artifacts were unearthed during Hurricane Michael that are believed to be of historical significance.
"The site where the artifacts were found is believed to be the original location of Holms Town," Museum Director Dorothy Odom said. "The village was settled around 1814 by Red Stick Muscogee Creek Chief Holms and his followers."
The location has not been publicly shared for security purposes, but Odom says more artifacts are turning up daily.
Local historian and author Dale Cox says many signs of life are being located such as pottery, tools and charcoal remnants. 
"The charcoal is significant because Holms Town was torched," he said. "This could well turn out to be the largest Muscogee Creek dig in Northwest Florida."
The Washington County and Vernon Historical Societies plan to have 3-D prints of the artifacts displayed in their respective museums.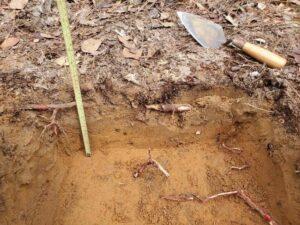 The Holms Town dig is just one of the projects associated with the Washington County Historical Society. To be a part of saving that history, visit the museum on Fridays 9 a.m. to 1 p.m. Special arrangements for visits can be made by calling Odom at 850-638-0358.