School board recognizes Teachers of the Year, approves personnel changes
The Washington County School Board recognized Teachers of the Year with One Florida Bank and the Washington County Chamber of Commerce when the board met in regular session March 13.
The annual awards for Teacher of the Year, School Related Employee of the Year and Rookie Teacher of the Year were presented to Sherri Skipper, Stacy Porter and Amber Peel, respectively. Each received a crystal trophy with their names emblazoned on them. The trophies will be showcased at the district office.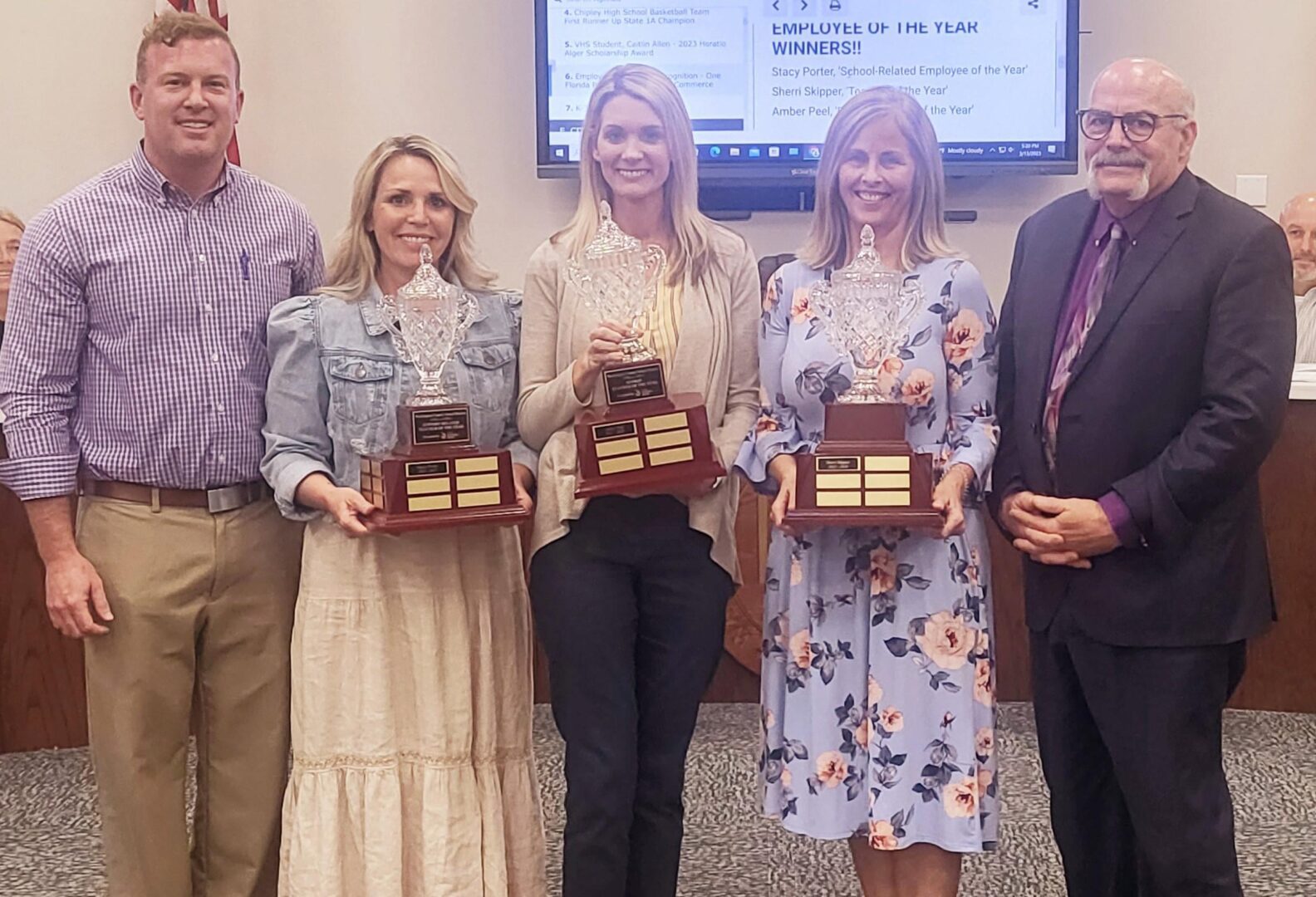 With the retirement of Lisa Burdeshaw as principal of Kate M. Smith Elementary at the end of the school year, the board approved the hiring of Chris Tyre as the new principal at KMS. Tyre's tenure will begin July 1.
An agenda item to approve the transfer of Sam Cox from the position of Assistant Principal at Chipley High School to the Florida Panhandle Technical College was approved in a 3-2 vote. Cindy Johnson Brown and Will "Tonka" Taylor were the two votes opposing the transfer.
Both Brown and Taylor raised concerns about goings on at CHS.
"I am concerned about the lack of administration at CHS. I know that we have no say over what is being done here but I think what is being done is wrong," Taylor said. "The high school has been without an assistant principal for four weeks, and that isn't good for anyone. I do not agree with this transfer."
"I definitely don't agree with this transfer either," Brown said. "I know the policy states that personnel matters fall under the superintendent and I get that, but I do not agree with this transfer."
Brown went on to say, "I am not picking on one school here, but I am concerned about Chipley High School. I feel like we need to dig deep as a board to look at attendance and discipline policies, I do see it is an issue. I spent a significant amount of time at the school recently and there are things I was not happy with the way they are being handled. Attendance is not good, we need to dig into that policy. Let's see what we can do to make it better."
In other business, approval to contract with the Washington County Sheriff's Office to provide a school resource officer (SRO) for Saturday school was approved. The funds to pay for the SRO will come from a federal grant specifically for Saturday school.
The Washington County School Board will meet again in workshop on March 27 at 4 p.m. to discuss the direction the board would like to go in regards to FPTC and a permanent director. The board will also discuss grants during the workshop.