Chipley Tigers roar to victory over Destin Sharks
In a showdown at Destin Middle School stadium on Oct. 13, the Chipley Tigers continued their winning streak.
The Tigers ultimately came out victorious, leaving the field with a 32-13 win. Ethan Berry, accounting for five touchdowns for the night. He completed 10 passes for 192 yards and four touchdowns…but his contributions didn't stop there, as Berry also made his presence felt in the rushing game with a rushing touchdown.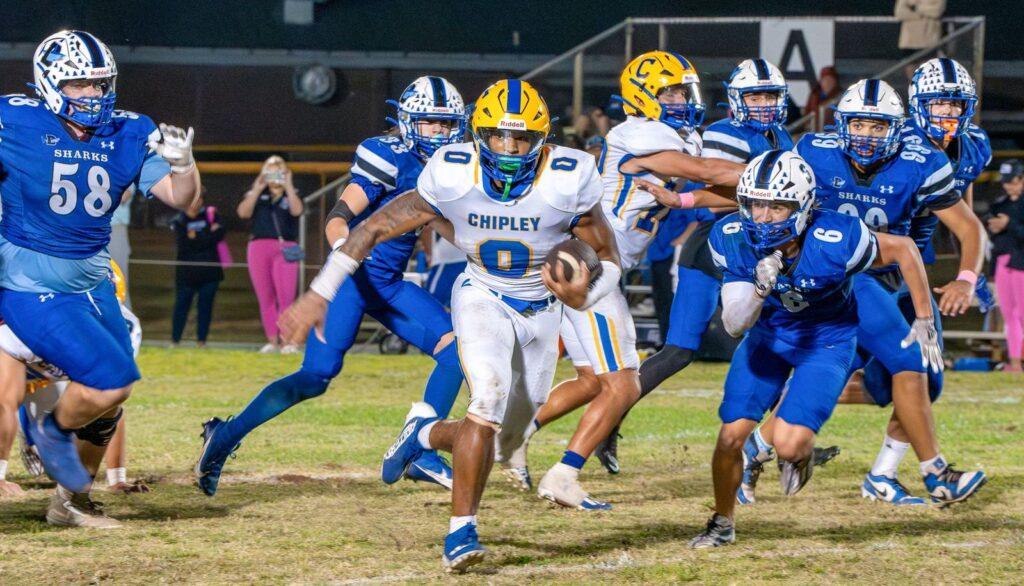 Berry found a reliable target in the end zone, with Gavin O'Neill reeling in five receptions for two touchdowns. Additionally, Ta'shaunSims and Malik Hendersoncontributed to the air attackwith two receptions for one touchdown each.
On the ground, Keybo Decree bulldozed his way through the Destin defense with 24 carries for an astonishing 169 yards, setting the tone for the Tigers' ground game. Khaiden Kennedy also showcased his running prowess with seven carries, totaling 85 yards.
The second half of the game saw the Chipley Tigers' defense tighten its grip, shutting out the Destin Sharks and securing the win. Jordan Washington and Malik Henderson were two of the heroes of the defensive unit, each securing interceptions to stall Destin's attempts to mount a comeback.
The Tigers head home, having secured a victory on the road. The Chipley Tigers will celebrate homecoming Friday night against the Bozeman Bucks.