Vernon Yellow Jackets nab win against Jefferson County
On Friday, Oct. 20, the Vernon Yellow Jackets defeated Jefferson County by a score of 43-30.Â
Senior quarterback Ryan "Pooh" Scott got the Yellow Jackets a victory with two passing touchdowns and another three touchdowns on 196 yards rushing.Â
He also had an interception on an JCHS two-point conversion attempt. On defense, sophomores Hunter Dyer and Caden Hammock combined for 17 total tackles and two turnovers. Â
Vernon improves to 4-4 on the season and plays at Cottondale on Friday, Nov. 3, at 7 p.m.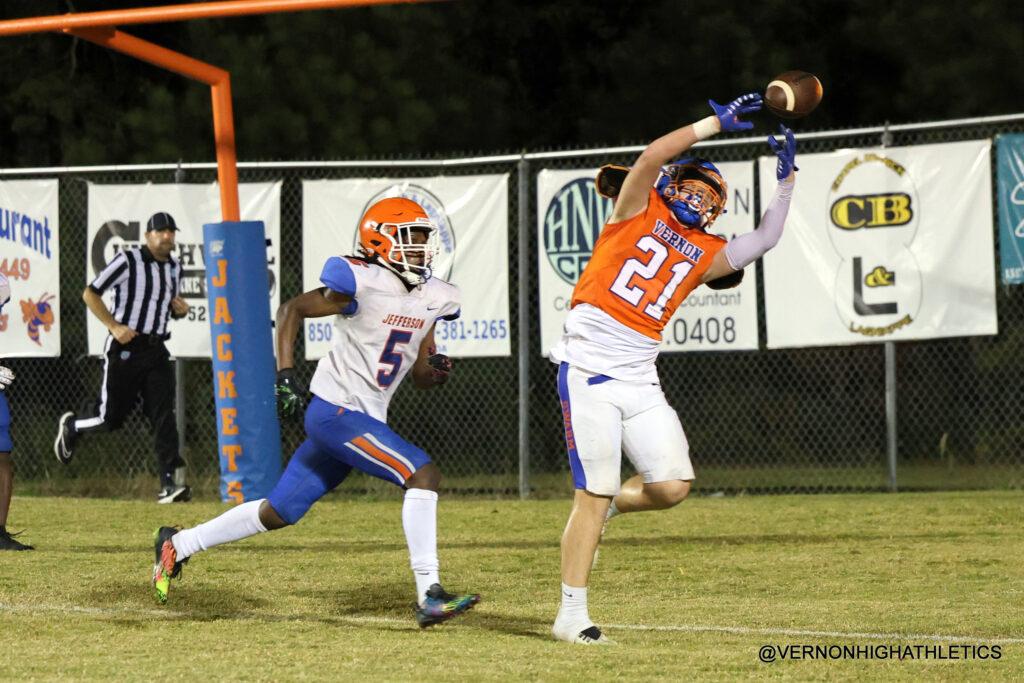 Before the game five senior Yellow Jacket football players (#70 Austin Comer, #78 Blake Burdeshaw, #50 Justin Coker, #79 Luis Solono, and #2 Ryan "Pooh" Scott) were honored in front of friends, family, and fans. The Vernon High School band, JROTC, and cheerleaders also participated in Senior Night.
Scott got an interception on a Jefferson County two-point conversion attempt. Â
Sophomore Caden Hammock got 92 yards rushing, eight total tackles, and one interception.
Sophomore Dante Siples got 39 yards receiving and one touchdown.
Sophomore Hunter Dyer got nine total tackles and one fumble recovery.
Sophomore Mathew Carroll got a two-yard touchdown in the first quarter.