Chipley Tigers triumph over Blountstown Tigers 
In a riveting matchup at Phillip Roundtree Stadium on Nov. 3, the Chipley Tigers clawed their way to a hard-fought victory against the Blountstown Tigers, emerging victorious with a final score of 32-26.
The victory made it back-to-back wins for Chipley. The Chipley Tigers' offense featured a strong rushing and passing game. Khaiden Kennedy led the ground attack, rushing for 41 yards.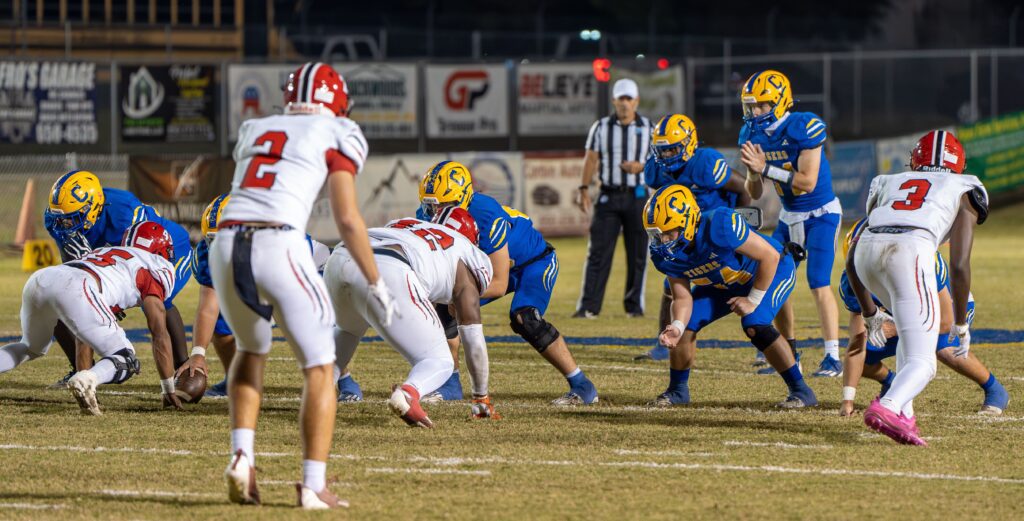 Keybo Decree contributed an additional 24 yards to the rushing game. Kyler Bryant was a standout performer with 85 receiving yards and two touchdowns.
Ta'ShaunSims added 80 yards and one touchdown to his name. Cray Holley made a significant impact with 25 receiving yards and one touchdown.
Jakiem Holley contributed 17 yards and one touchdown. Keybo Decree gained nine yards through the air. Gavin O'Neill also supported the team by adding 37yards to the passing game.
Quarterback Ethan Berry played a pivotal role in the team's victory, completing 13 passes for an impressive 253 yards and five touchdowns, spreading the ball to six different receivers.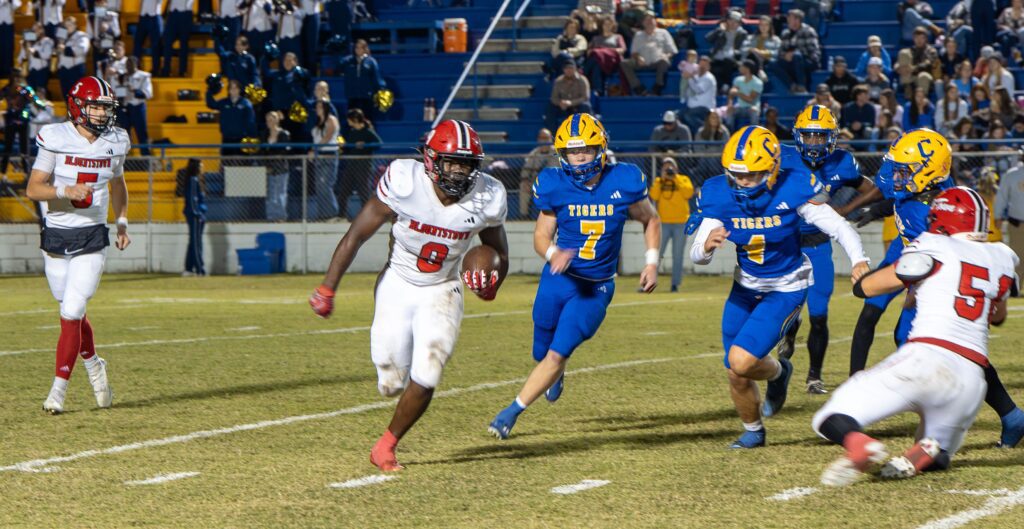 Amarion Hover led the ground attack for the BlountstownTigers and rushed for 168 yards and three touchdowns while Bryant Washington rushed for 210 yards and a touchdown.
The Chipley Tigers' defense was equally formidable, led by some standout performances. Malik Henderson stood out with eight tackles and covered Blountstowns Texas A&M commit Jordan Pride throughout the game.
Other notable Chipley defensive players included CarsonThornton, recording seven tackles. Jayden Davis with eight tackles. Jordan Washington contributed five tackles. CrayHolley adddc seven tackles and Brodie Price tallied four tackles for the night.
Jakiem Holley blocked a crucial kick keeping the opponent from scoring an extra point. Jaylin Washington and Ta'ShaunSims each played crucial roles on defense, each making multiple successful tackles.
This strong defensive effort helped keep the Blountstown Tigers in check, ultimately securing the win for the Chipley Tigers. With a final score of 32-26, the Chipley Tigers celebrated a well-deserved victory over theBlountstown Tigers.
The Chipley Tigers are now gearing up to host round 1 of the 1R FHSAA State Playoffs next Friday night, where they will face the Vernon Yellow Jackets at 7:30. Expectations are high as the Chipley Tigers continue their journey in pursuit of the state championship.